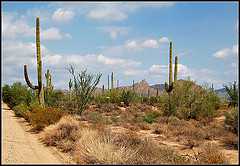 It's rather difficult to find a decent spot to get a good photograph right now. I wanted to get a shot of clouds rolling in over cactus with mountains in the distance.
I didn't really want to trek too far out into the desert, since it's 100+ degrees (at night). So I drove around in the northern parts of the valley and found a neat little area just off the side of the road.
Hopefully I'll be able to get a better shot of storms/monsoons.
Originally uploaded by Krazy Yak.