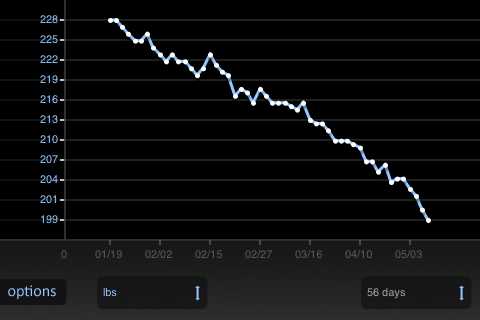 Weighed in today at exactly 199 pounds, down from 235 in November. This is the first time I've been under 200 in probably 10 years. I'm not done yet either; I'm aiming for 185-190 range, but this was a big enough milestone, that I felt like writing about it.
I didn't do any weird diet or use any Thighmaster-like gimmick, just kept it simple: eat less bad food, exercise more. Exercise consisted of weight training and/or cardio. Right now I'm getting a little tired of weights, so I've been focusing more on cardio.
I've been doing this for about 6 months now, and can:
Run one mile in 8:30. 
Run a 5k in 28:30. These aren't all that impressive, but I haven't been focusing on the running until recently.
Bench press 170 pounds at 5 reps in 3 sets.
Squat 195 pounds at 5 reps in 3 sets.
Amusing anecdotes:
It was easier to exercise and lose weight while traveling! The only things to do out in Texas were watch TV, surf the Internet, and go to the gym. Now that is over with, I actually have a reason to stay home, so I spending an hour and a half at the gym is out of the question.
Sweaty clothes can add a not-in significant amount of weight. After I did my first 5k, I was pretty drenched. I hopped on the scale and saw that I had gained 3 pounds since the prior day. "BS" I thought, stepped off, peeled off the shirt, and weighed in again to a more normal amount. And if you thought that description was gross, read what I said on Twitter about it.